Find forms and important information here!
Reconciliation and First Holy Communion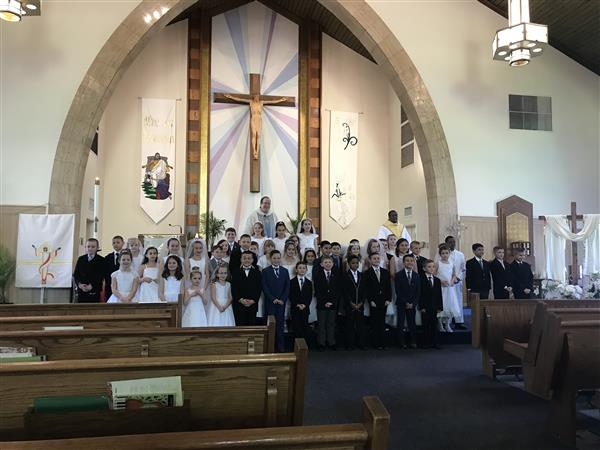 +Mass of Enrollment October 16, 2022 [Enrollment Agreement Available HERE].
+Reconciliation and First Holy Communion Sacrament Fees 2022-2023 $50 Pay Online HERE. Due no later than 2/8/23.
+Information Meeting January 23, 2023. 2020 Presentation Available HERE.
+Students will be making their First Reconciliation on Tuesday, February 21, 2023 at 6pm in the Church
Act of Contrition
My God, I am sorry for my sins with all my heart.
In choosing to do wrong and failing to do good, I have sinned against you whom I should love above all things.
I firmly intend, with your help, to do penance, to sin no more, and to avoid whatever leads me to sin.
Our Savior Jesus Christ, suffered and died for us. In his name, my God, have mercy.
Amen.
+ First Holy Communion Retreat Date TBD.
+ First Holy Communion Pictures Saturday, March 4, 2023 [Boys 9:30-10:30am, Girls 10:30-11:30am]
+First Holy Communion Practice Monday, May 1, 2022 at 6:00pm in the Church
+ First Holy Communion Saturday May 6, 2023 at 11:30am in the Church
First Holy Communion Dress Code Guidelines
For Boys: Full button dress shirt with a collar (long or short sleeve). An appropriate tie should be worn. Dress pants should be worn with a belt. Pants can be black/navy/gray/khaki. Dress coats should be worn. Dress shoes; not gym shoes, boots, or sandals.
For Girls: White dresses should be worn that fall below their knee in length. Shoulders should be covered; no spaghetti straps. Shoes and socks should be white, no high heels. Veil or headpiece should be simple, shoulder length, and made of sheer fabric. Gloves are acceptable for pictures, but should not be worn when receiving the Eucharist.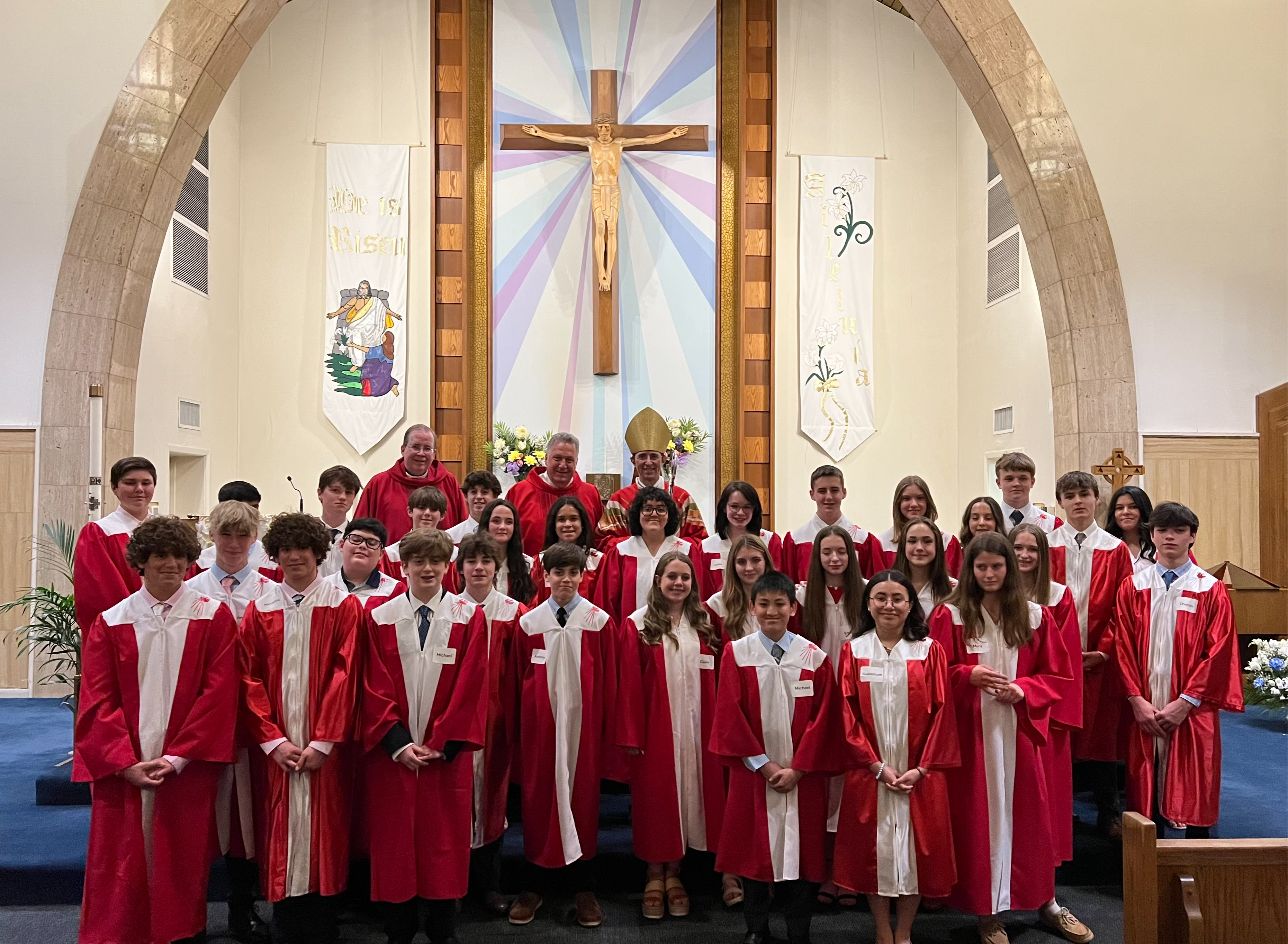 Confirmation Fees 2022-2023 $75, an additional $19 for Confirmation Robe. Pay Online HERE. Due no later than 10/10/22.
Service Experiences [will be checked regularly]
Important Dates [SUBJECT TO CHANGE]
Monday, October 3rd, 2022 6:00pm Information Meeting in Church. [2020 Presentation Available HERE].
Good News to Go and Service Experiences: Ongoing [Checked each month.]
Sunday, October 16, 2022 10:30 a.m. Mass of Enrollment [Enrollment Agreements Available HERE].
October 14th 8am-3pm HOLY FIRE [MANDATORY CONFIRMATION RETREAT]
November 19th/20th, 2021 Reflection Paper DUE
December 3rd/4th, 2021 Interview with Parent/Guardian
December 17th/18th, 2021 Choosing A Name & Choosing A Sponsor
January 7th/8th, 2022 A Snapshot of My Sponsor Interview
February 11th/12th, 2022 Two Letters of Recommendation DUE
March 4th/5th, 2022 Request to Celebration Confirmation DUE
ALL SERVICE EXPERIENCES SHOULD BE COMPLETED BY THE BEGINNING OF MARCH
March 24th/26th 2022 Summary Sheet for Confirmation Book DUE
Monday, April 17, 2023 6:00 p.m. Confirmation Practice in the Church
Sacrament of Confirmation at Queen of Martyrs Friday, April 21st at 7pm with Bishop Grob.